Roots activator with essential oils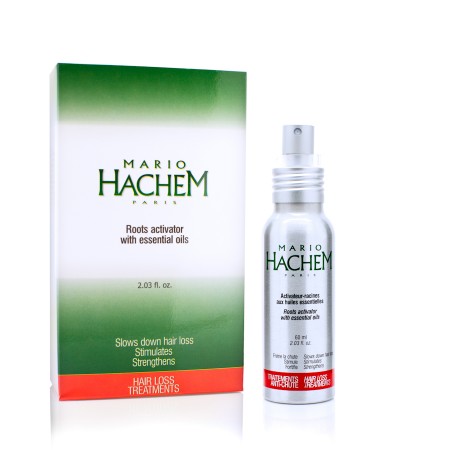 Roots activator with essential oils
Roots Activator With Essential Oils
Ref 1501 in 60 ml (2.02 fl. oz)
To slow down and stop hair loss, and stimulate re-growth of healthy strong hair, Mario Hachem recommends   Roots Activator With Essential Oils. The active ingredients of this product are some exclusive formulas of   ancrine and capilectine and some essential oils of basilic, carvi, thuja, and rosemary. They can activate the very heart of the week cells and control the secretions of sebaceous glands in cases of seborrhoea. This non-oily scalp energizer has a very pleasant smell, penetrates the scalp easily, gives added volume to the roots, and leaves  hair shiny and more manageable.
Usage: Roots Activator With Essential Oils can be used in two ways:
As a curative treatment at the first signs of hair loss
As a preventative treatment to revitalize your hair in cases of illness, stress, general fatigue or changes of season.
Apply to dry scalp the night before shampooing or alternatively on towel-dried scalp straight after  shampoo. Do not rinse. Must be used at least three times a week for a period of at least ninety days.